Lead Retrieval Services
Top show producers and meeting planners rely on CSI to deliver the most reliable lead retrieval solutions on the market today. Our mission is to help exhibitors achieve the best possible trade show experience by providing innovative technology, backed by the most experienced professionals in the industry.
What is lead retrieval and how does it work?
Lead retrieval products provide a reliable means for your exhibitors to quickly and easily capture contact information electronically from the attendees that visit their booth. When CSI's services are used, every attendee badge will feature a small 2-dimensional (2D) barcode encoded with their contact information. Our products read these barcodes and print and store the information electronically. In addition, exhibitors can qualify show leads extensively with electronic notes and follow up action items.
CSI will provide you with the necessary software and support to encode and print the required 2D barcode on your attendee badges, using your own registration system. Our software is designed to work with virtually any registration system, and set up takes less than an hour. If you don't have a registration system, no problem. You can use our state-of-the-art turnkey system. We will provide you with all the necessary hardware, software, and set up instructions.
CSI provides a full-service lead retrieval solution. We will manage the entire process for you from start to finish. CSI will perform the following:
Produce the lead retrieval order form and production information for your exhibitor guidebook
Perform pre-show marketing to your exhibitors to rent our products
Field all phone calls from your exhibitors - pre-show and post show
Ship our lead retrieval equipment to your event and provide the staff to deliver and support our products
Lead Retrieval Products
CSI has a comprehensive suite of lead retrieval products and services that will satisfy virtually any type of exhibitors.
CSI products and services are designed to help exhibitors quickly and easily capture and qualify leads on the show floor. Our products read trade show attendee badges and instantly store comprehensive sales leads. Exhibitors can select from a suite of CompuLEAD lead retrieval products.
Additional Services:
Badge printing
Session tracking with CEU certificate processing
Entrance tracking

CompuLEAD Desktop II

Features the latest advancements in data collection and management.

Simple drop and record
100% badge read rate
Lightweight and small in size
Integrated USB memory drive for electronic lead delivery
Qualify prospects with generic or custom options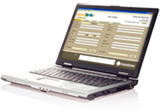 CompuLEAD Pro

PC based system offers extensive lead qualifying and management.

Leads automatically transferred to exhibitors computer
Qualify lead extensively with LEADlink+ lead management software
Edit prospect's contact information at time of scan
Add unlimited notes to a record
Create extensive product lists and survey questions
Runs off USB drive - no software to instal

CompuLEAD Mobile

Provides a completely mobile lead retrieval solution.

Lightweight handheld device
No electricity required
Capture and qualify leads anywhere
Qualify prospects with generic or custom options


New!

CompuLEAD Mobile Elite

A handheld device with advanced surveying and qualifying capabilities.

Large touch screen and attached stylus
Instant online access to sales leads
QWERTY keyboard for extensive note taking and lead editing
Optional wireless printer
BuyerConnect - Lead Follow-up Services
After the event, exhibitors and attendees have access online to their personal list of booth contacts.
Exhibitors can:
Easily keep track of the attendees who stopped by their booth
View, print and download their leads
Send broadcast email to their list of leads
Print mailing labels
Generate lead analysis reports to evaluate ROI
Attendees can:
Easily keep track of the exhibits they visit
View and download company information for the exhibitors they visit
Send individual emails to exhibitor contacts
Follow up when and how they want